Tacoma cleans up at Vincentric's Best Value Awards…. again
Whether or not you think that Toyota trucks are the most comfortable or the most stylish, it's hard to argue against their renowned and world-class reliability and durability.
Especially now that the 2016 Toyota Tacoma has emerged victorious with Vincentric's "Best Value in America Award"… for the twelfth year in a row. Or, for those keeping score at home, for every year that this award has been in existence.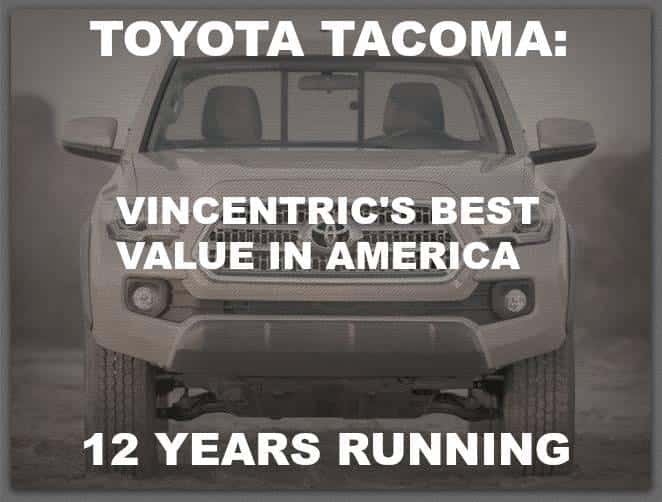 What does that mean for drivers in Midwest City, Norman, Edmond, Moore, or Oklahoma City? Simply, that if you're looking for a practical, versatile, and affordable midsize pickup truck for both work and play, you won't find a better value than the Tacoma. And that's proven by science.
In order to select the winner in each category (for the Tacoma, that would be "Small Trucks"), the data-crunchers at Vincentric looked at over 3,000 different vehicle configurations from all over the 50 states, and ranked by which models were most likely to offer lower-than-expected ownership costs in vehicle depreciation, fees and taxes, financing, fuel costs, insurance rates, maintenance, opportunity costs, and likely repairs.
While many trucks performed adequately, the Tacoma dominated across the board to retain its place at the top of the pecking order.
The 2016 Toyota Tundra was also featured in the awards, coming in as a finalist in the hotly-contested "Full-Size Half-Ton" division.
Overall, the Toyota Motor Corporation–including its Lexus luxury brand–won 9 of the available 32 categories in Vincentric's rankings. We believe that speaks volumes to the quality, reliability, and smart engineering of each and every Toyota vehicle.
Visit our Toyota dealership near OKC to get a good look at the stunning new Tacoma for yourself; take a test drive, explore all of its new features and gear, and let our Toyota experts show you why these trucks are the best that money can buy.